Awi Star 42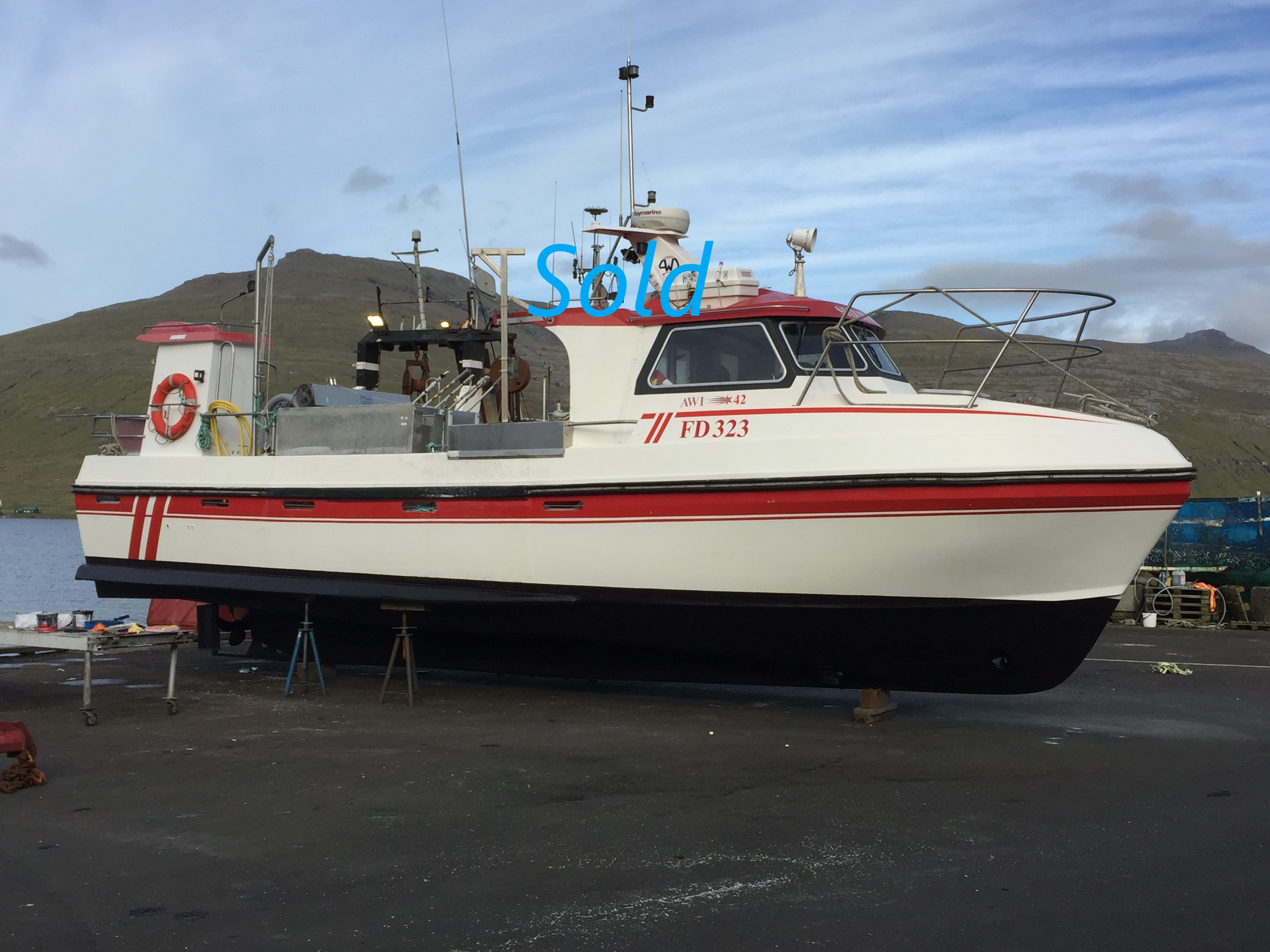 Built: Built on AWI Boats on the Faroe Islands in 2004 and extended the same year.
Type: Awi Star 35 (Extended to 42)
LOA: Built as 35ft (10.60m) and extended to 42ft (12.8m)
Width: 3.4m
Depth: 1.39
Building material: Fiberglass
Load: Space for 15 boxes on 380L + crib on 1500L and closure frame.
Main engine: Perkins sabre TI265 265hk year 2008 run 4000 hours
Gears: Twin-Disc
Thruster: Electric bow thruster 11 hp
Steering machine: Tenfjord
Deck equipment:
6 pcs. jigging machines
Line Funnel.
Linevinsj (Islantic roller)
Fishing and washing box.
Linedrum with 15Nm monophilic nylon on for fishing halibut, tuna etc.
Furnishings:
2 pieces of bunks.
TV.
Wash
Gas Flares.
Furnace
Micro-oven
WC with sink, shower.
Oil heating.
Safety equipment:
Viking liferaft,
Aut. Fire extinguisher attachment in engine room and fire alarm in steering house.
Rescue equipment that is required by the authorities.
Bunkers oil: 1800L
Bunkers FW: 150L
Speed: 12 button economy button 9 button
Electronics / Equipment
Rader Raymarine Raytheon R70
Ekkolodd Hondex HE 7300
GPS Plotter Garmin GPSmap 4012 Maxi Version 12
Auto pilot Cetrek Pilot 731
DSC VHF Radio Ocean RO4700
Radio / CD Pioneer
AIS
High beam.
Various.
A great boat / shark, which is the entire area and ship shape. The boat looks like a whole new, both inside and outside. Incredibly well maintained and equipped with all kinds of fishing gear.
6 automatic cheaters from OILWIND, OILWIND line suit (suitable for 100%), 60-70 punches with line (60-70 magazines) and line-line / line win from Iceland. The boat has also been fitted with a new drum (2016) with 4 mm line (monophilic nylon) which is incredibly efficient for halibut / tuna / silage shark / all deepwater fish. Only large hooks that are clipped (with spaniel clamps) are used during throwing. New boom for taking big fish.
It is also possible to use the barrel for teens to be clipped on with spaniel clamps.
Oil Capacity: Bottom Tank 1800 liters
Fresh water capacity: 150 liters.
Speed: 12 knots, economy chart: 9 knots.
The boat was fitted with MaxSea plotter version.12 by 2015.
The boat received a 5-year vision and axle draw in 2015.
2 bunks in cabins toilet with dass / dush / sink, 5-6 seats in cabins and 3 seats in steering house, microwave, refrigerator, gas stove and sink, 50 liter hot water bottle, heat reader, etc.
Price: 2,000,000 DKK Free alongside in port of Torshavn, Faroe Islands