Guimond shelterdeck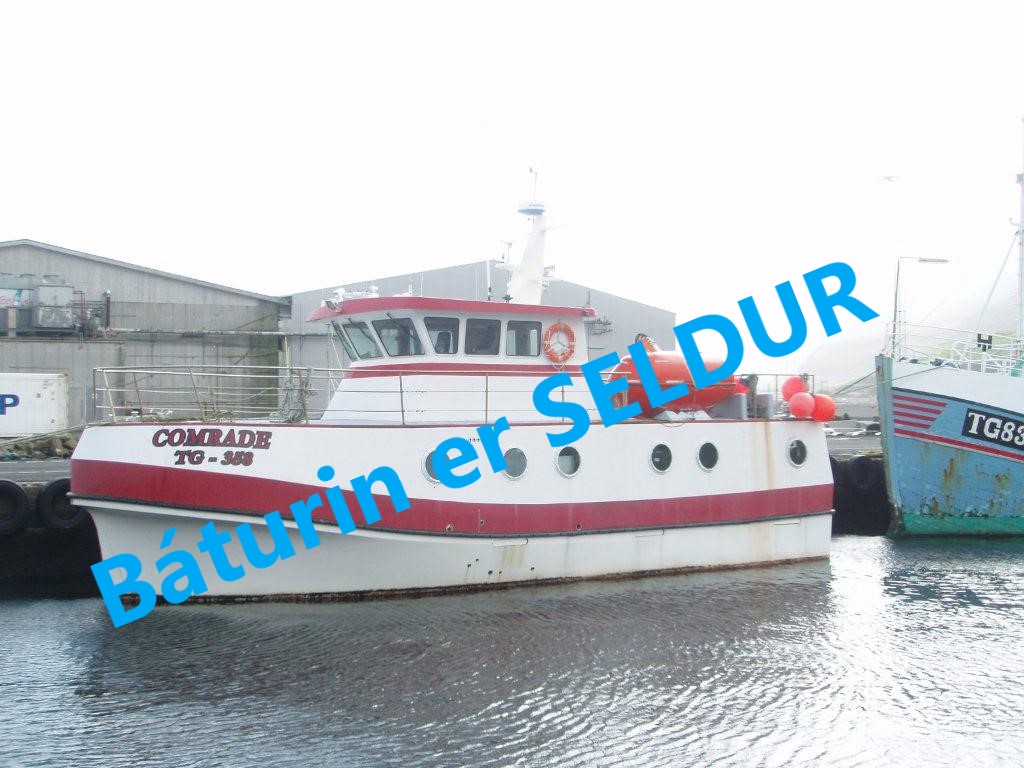 This boat was built in Canada in 2003-2004 for fishing, but the fishing in faroe collapsed in 2006 and the boat has not been used much since except for short charters including one which required us to recover oil from the sea after a ship sunk. We sailed the boat home from New-Brunswick  in canada via Newfound – Rekjavik-vestmann islands and so to vagur in the faroe islands in September 2004, we were extremely impressed with its performance as two days before Iceland we encountered the low pressure from hurricane "ivan´´and got north westerly wind of 13-18 meters on the port beam for 1½ days, we also tested the boat while fishing west of faroe in 33 mps and came home withoutConcern so I have no doubts about the capability of the boat.
The hull is built in double sandwich form with 20mm coring between creating a very strong
Construction from material used mainly in the construction of lifeboats and rescue craft.
Main Engine: 650 BHP, Volvo, D-12, 750 rpm, 478 kW

Engine room,
1 x Volvo penta D12 heavy duty 6 cylinder in line main engine of 650 hp coupled to a twin disk gear box  with 100mm r/f shaft and 4 bladed bronze propellar.
1 x vetus gen set with mitsubishi engine to provide 14kw of 220volts.
1 x mastervolt battery charger 220. – 24 volt.
Two x parker variable hydraulic pumps for all hyd working systems on board.
3 x 2sets of heavy duty batteries charged from 220v charger plus main engine 175ah alternater.
1 x 220volt boiler for fresh water with pressure system.
1 x 22ovolt boiler for central heating with pressure system.
Heating water is also heated from main engine when running.
Toilet holding tank.
6 x fuel tanks aprox 8000 ltrs with fuel transfer system operated from wheelhouse.
1 x fresh water tank approx 1000ltrs
1 x anchor winch electric.
All pumps operated from weelhouse exept emergency hand pumps.

Electronics: Well equipped on bridge

1 x furuno echosounder  2 kw.
1 x furuno gps navigator 37.
1 x furuno  satellite compass.
1 x  furuno   nav net system with echosounder / plotter / mini arpa radar / weather charts etc with slave screen on deck at hauling station.
1 x full furuno A2 GMDSS system.
1 x furuno GP500 auto pilot with complete station on deck also at hauling station.

Bunkers:

Gas oil: 8.000 ltr
Fresh water: 1.200 ltr

Fish hold: 25 x 380 ltr boxes
Accomadition: 6 berths in two cabins.

Galley / messroom with 2 ring 220volt electric cooker.
Refrigerator.
Combi micro oven
1 x shower with electric toilet / with macerator pump and( holding tank in engine room).
1 x wet room for drying oil clothes / boots etc.
1 x webasto oil fire for central heating system.

Tween deck.

The shelter deck area is ca 49 square meter space completely over decked, creating a very nice working environment with access hatch to hold area and steering gear.
Auto pilot and follow up slave controls are installed on starboard side at working hatch.
Main engine controls incl start / stop are also at working hatch.

Top deck.

The top deck incorporates liferafts  escape hatches etc,
1 x Guerra deck crane of 350kg at 5.4m ( reduced pull )for landing and general use.
Cleats and  fairleads for mooring the boat.
Access/entrance to wheelhouse from outside .
Gangway to wheelhouse roof.

Safety equipment,

1 x solas approved ovatec survival capsule for 7 man. Provides safe haven for crew in the event of a sinking.
Life jackets / survival suits etc.
2 x life rings.

Various:

Line on drum (Spanish design). New price DKK 450,000.-
Speed: At the time of sea trials the top speed was 15.7kts but now she has a bigger displacement so I would say a service speed of 11kts and full speed 13½kt

Price: Inviting offers