TUG Supply Standby Rescue Vessel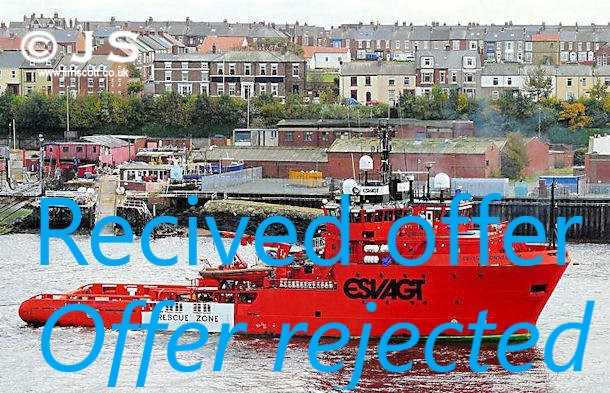 Faroe Maritime Services has just received this Tug/Supply Vessel Vessel for sale.
The vessel is ready for inspection in Denmark.
😍 Call Faroe Maritime Services on +298 610000 or send an e-mail on fms@fms.fo to arrange an inspection or to get more information. 😃📞
Class: DNV-GL #1A1 ICE-C Tug Offshore Service Vessel OILREC E0 DPS1 NAV-O BIS TMON
Approvals: The vessel is constructed in accordance with standby rules as follows: Danish Maritime Authorities as standby/rescue vessel for 150 survivors.
Norwegian Regulations of 16.10.1991 No. 853 as standby/ rescue vessel for 300 survivors. MCA, UK as Class B standby/rescue vessel for up to 300 survivors.
Built: 2000
Dimensions:
LOA: Beam, Moulded: Draught, Moulded (max): 56.40 m 14.60 m 6.00 m
Tonnage 1890 GT / 567 NT
Deadweight: 1637 mts
Deck load capacities:400 tons
Deck cargo capacity:12 m x 26 m
Deck measurement: (300m2)
Deck strenght:   5 tons / m2
Tank capacities:
Potable water:234 m3
Ballast / drill water: 1042 m3
Fuel oil: 517 m3
Oil recovery / brine: 512 m3
Oil dispersant: 35 m3
Waste oil:15 m3
Sludge:20 m3
Sewage: 20m3
Propulsion:
Main engine: MAK
Type:8M25
Number: 2
Output: 2 x 2400 kW (6400 BHP)
Speed:14.2 knts max
Consumption: eco speed approx 6 tons/24 hrs at 8 knots. Max speed approx. 21 tons/24 hrs at 14,2 knots
Normal standby (azimuth): Approx 3 tons/24 hrs.
Propellers: 2 x controllable pitch
Bollard pull: Normal  102 tons (continuous), 107 tons (max) at 110%
MCR Thrusters:
Bow: 1 x 600 BHP tunnel
Azimuth: 1 x 1000 BHP
Stern: 1 x 600 BHP tunnel
Generators:
Main generators 3 x 810 kW
Emergency generator 1 x 165 kW
Towing equipment:
Type Double drum waterfall type: 2 x hydraulic drum, (heavy duty), with spooling gear and cable lifter
Capacity: 1000 meters x 60 mm each
Brake load: 250 tons at 1st layer
Line pull: 150 tons at 1st layer
Rope reel winch: 1 hydraulic, 1000 meters x 60 mm
Stern roller:1 roller type x 1500 mm diameter with 250 tons vertical load
Shark: jaws 1 x Triplex 300 tons SWL
Towing pins: 2 x Triplex 150 tons SWL
Deck equipment:
Crane: 1 x 80tm
Crane outreach: 12 meters – 4.850 kilos, 6 meters – 11.200 kilos
Windlass:  1 x 30ts hydraulic – split drum, 1 x 2 cable lifters for 38 mm chain, 2 x warping ends
Capstan (aft) : 2 x 7 tons hydraulic
Tugger winch: 1 x 10 tons hydraulic
Anchors:  2 x 1740 kilos
Bridge equipment:
Radars: 2 x TM colour Rasterscan ARPA + aft slave
Electronic chart system Max Sea
Master gyros: 2
GPS: Fitted
DGPS: Fitted
Speed log: Fitted
Echo sounder: Fitted
Auto pilot: Fitted
Wind/speed indicator: Fitted
Magnetic compass: Fitted
Dynamic positioning equipment
SDP11 Kongsberg (operational from all bridge positions) incl. autotrack (low speed) – follow target
PS96 Kongsberg joystick operational from all bridge positions
DGPS: spot beam type
Fan Beam mk4.2
HIPAP 500
Communication equipment:
GMDSS A1, A2, A3
Radio HF SSB
Inmarsat C/B
Iridium
Navtex Fitted
VHF 3
VHF portable 6
UHF 3
EPIRB 2
SARTS 2
VSAT communication system, E-mail and IP telephony
Accomodation: 15 crew in single cabins with own shower / toilet
Up to total 12 passengers in 6 double cabins with shower/toilet
Public rooms / rescue: Treatment area
Recovery area
Survivors area
Non-survious area
Hospital Gymnasium
Recreation room
Mess room
Duty mess room
Fire fighting:
CO2 fixed system Engine room
Engine control room
Galley
Paint store
Fitted with deluge water spray system
Life saving equipment: Fast rescue craft: 1 x 15 persons Esvagt FRC (heave compensated davit), 1 x 15 persons FRC with waterjet.
Liferafts: 4 x 25 persons
HIGHLIGHTS:
Further equipment: Seaclaw SAVE harpoon system, 2 x 5000 W Searchlights, Search pattern facility in video plotter
All details given are 'about' and without guarantee and available for alteration. Not to be used as basis for any binding agreements or contracts.