INTRODUCTION for PORT OF TVØROYRI
Surrounded by waters with no other options than the seaway, the Port of Tvøroyri sustains its liability on offering smooth waters to its visitors. Tvøroyri also has an advantageous position
considering the activity in the surrounding waters. It lies closely to the fishing banks as well as the exploration drilling.
The Port of Tvøroyri comprises two harbours on the northern and the southern side, respectively, of the well protected Trongisvágur fjord. The fjord
is known as a very accessible natural harbour with two lighthouses and a roadstead that is well suited for anchorage.
The Port is situated on Suðuroy, the southernmost island of the Faroes. The island has a population of approx. 4700 and Tvøroyri is the main town.
Trongisvágsfjørður is a long fjord which offers natural shelter from the North Atlantic Ocean. The port has been an important fishing port for more
than a century.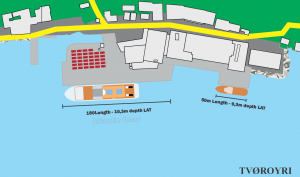 The ports of Tvøroyri consist of 2 harbours with a quay lineage of 395m. Depth ranging from 6,3m LAT to 10,3m LAT.
A newly added deepwater terminal at the Fishing Harbour is making life easier for seafood exporters and importers of goods, as cargo
handling has become more efficient with added capacity.
The 180-meter stretch of dock, 40 m wide, is sufficiently large to make room for almost 300 standard 40-foot containers without disrupting
operations. In addition to its position as a shipping hub, the Port of Tvøroyri is also a center for regional container transport. Virtually all seafood-related
cargo that is brought to and from the island of Suðuroy goes through Tvøroyri. In this connection the Port's new container storage area is proving its
worth, making logistics operations efficient and convenient whether for warehousing or shipping.
Besides cargo, related to the seafood trade, the Port of Tvøroyri is aiming to develop a position in the budding cruise-tourism business. Local
businesses participate as service providers and are adding to their experience.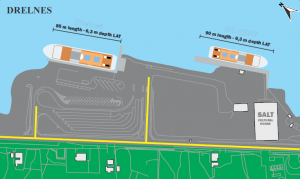 Drelnes harbour consists of a 90m quay, 6,3 LAT.
The most frequent users of the harbour are oilproviders, delivering oil to the nearby storage tanks, the Royal Danish Marine and fishing vessels.
An excellent choise, if it's not necessary to be in the heart of the city.
The harbour is situated right next to the newly restored cultural house SALT.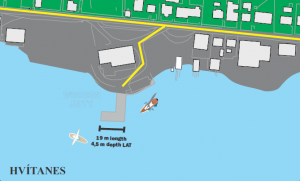 The picturesque wooden jetty at Hvítanes is a much used location by yachts and smaller vessels, looking for a quiet spot in close proximity to the city center.